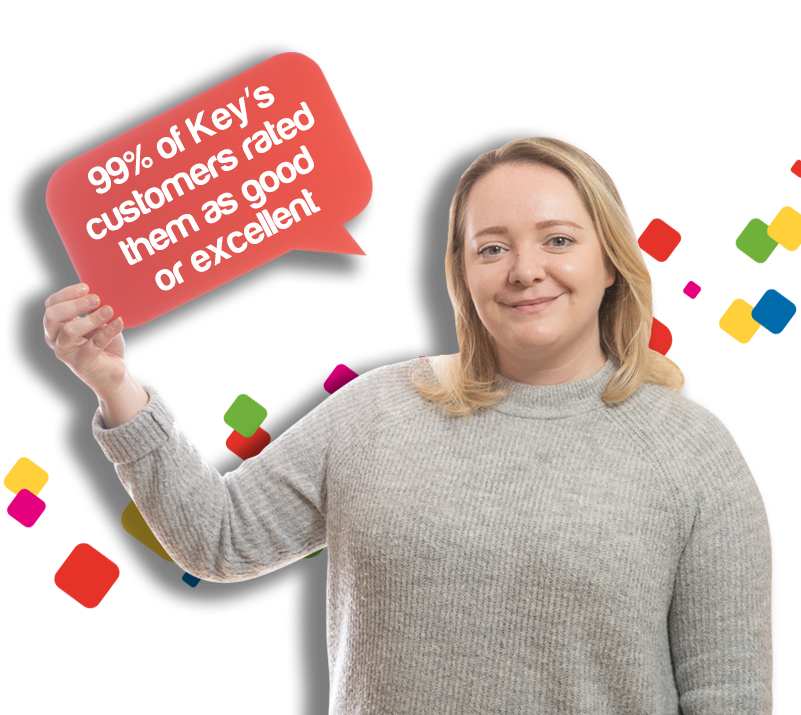 SUPPORT FOR YOUNG PEOPLE
---
Key Unlocking Futures is the charitable arm of Progress Housing Group, supporting young people and their families by preventing homelessness, promoting wellbeing and instilling self-confidence.
More than 1,200 people have been supported with 99% of them rating Key's service as good or excellent. At the heart of Key's approach is a belief that everyone can be supported to make lasting changes. Key's service users tell them that they give them the results they need, even where other providers have failed.
444 cases of homelessness prevented
98% of families mediation/conflict resolution reported improved communication
96% of service users improved their emotional wellbeing
During the year we have continued to help residents living at our supported housing schemes who are facing homelessness in Chorley, Preston and the surrounding areas.
We have worked with The Heart Project to help tenants identify healthy relationships, develop self-confidence and improve social skills. We have also worked in partnership with SLEAP (Support in Leyland with Emergency Accommodation for Young People) to arrange for residents to attend independent skills sessions which will assist them with budgeting, emotional health and preparing for work.
We are currently working alongside Preston City Council and The Foxton Centre in Preston looking at how we can incorporate Making Every Adult Matter (MEAM), this aims to deliver better co-ordinated services for people with multiple needs.
We continue to offer accommodation and support to victims of domestic abuse via our women's refuges in South Ribble and Chorley.
We do this through a number of ways:
Providing safe accommodation to women and their children
Specialist support for children staying at the refuge
Offering recovery courses
Providing a 24-7 helpline 365 days a year.
"Key never gave up on me and now I am going to make them proud"
Our women's refuge received a referral for a young woman to stay at the refuge. She had been held at a police station overnight, having stabbed her ex-partner. The young woman came to the refuge with just the clothes on her back. She had both physical and emotional injuries and was so traumatised by her experiences that she could not even talk.
She had been with her violent partner since school and they had children together – all of whom had been taken into care because of the violent situation they were in. She had never engaged with any support services. Finally she tried to leave her partner and start again, but he kept breaking in to her new home, and attacking her. The last time he did this, she was so scared, she picked up a knife and stabbed him to get away from him.
With time and care the refuge encouraged her to engage with support services and start to build relationships with her family and children. She desperately wanted to pick up on her education and make something of her life. Any learning opportunity that was on offer, she eagerly engaged with – from cooking sessions to crafts and sewing lessons, to computer courses at the local library.
Staff at the refuge recently waved goodbye to her as thanks to their support she had a flat of her own and is now currently working, whilst she awaits starting university in the autumn. We are so proud of what she has achieved!
We are the largest provider of supported living accommodation in the UK with 3,195 rental streams across the country. We work closely with local authorities and support providers to provide high quality homes that enable people to live independently with support.
Our supported living services are provided for people with autism, learning disabilities and mental ill health and are designed specifically to support people to live as independently as possible, taking responsibility for their own tenancy agreement and thriving within the local community.
TECHNOLOGY ENABLED CARE SUPPORT SERVICES
---
Our Progress Lifeline service, which provides telecare and technology enabled care and support services was successfully audited by the Telecare Services Association's (TSA) for the new Quality Standards Framework. Confirming for the 11th year, our commitment to providing the highest quality standards for our services. The Progress Lifeline service has been established for over 28 years and is a lead provider for telecare installation, monitoring and response in Lancashire. The service offers a wide range of telecare sensors, as well as the lifeline unit and pendant alarm.
Progress Lifeline provides over 34,000 customers with 24-hour emergency assistance. Last year the monitoring centre handled over 500,000 calls from customers requesting assistance, compared with 439,789 the previous year.
The service has continued to develop an emergency home response service and now provides this service county-wide as well as in Yorkshire helping over 11,000 customers. It also continues to provide a lifting service for people who have had a fall but are not injured.
Our Independent living service continues to adapt to meet the needs of our tenants who live within our 30 schemes across the South Ribble and Fylde boroughs.
Technology is making an impact on the independent living tenants where a number of schemes have had their alarm equipment upgraded to the 'I'm OK' system which is a proactive system allowing tenants to press a button in the morning to inform the independent living co-ordinator that there is no need to make contact with them as they are okay. This system allows the tenant to get on with their day-to-day living whilst knowing that they can still call for assistance if required.
PROGRESS LIFELINE PROVIDES OVER 34,000 CUSTOMERS WITH 24-HOUR EMERGENCY ASSISTANCE